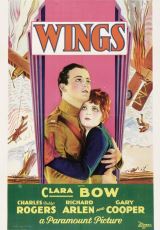 NOW SHOWING

Wings
Director: William A. Wellman, Harry d'Abbadie d'Arrast
Cast: Clara Bow, Charles 'Buddy' Rogers, Richard Arlen
Duration: 144 mins
Rating: PG
Release Date: 22 October, 2017

With World War I afoot, David Armstrong (Richard Arlen) and Jack Powell (Charles "Buddy" Rogers) join the military with an eye toward flying American fighter planes. They leave behind Mary Preston (Clara Bow), a local girl who's in love with David but committed to Jack. Dispatched to France as newly minted pilots, the men take to the skies in one of the war's climactic air battles, and as frantic Mary longs for the safe return of both men, one pays the ultimate price for his bravery.
Wings, the first film to win an Academy award for its epic feats and cinematography stand-outs, Some of which have never been repeated. Carefully remastered with a re- recorded soundtrack this is one piece of film history you won't want to miss.
Now Showing at
TIMES & TICKETS FOR 'WINGS'
There are presently no session times scheduled for this film. Times for new release films are generally available from 12pm on the Tuesday prior to release. Please check back later.