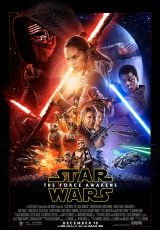 NOW SHOWING

Star Wars: The Force Awakens
Director: J.J. Abrams
Cast: Daisy Ridley, Adam Driver, John Boyega, Harrison Ford, Carrie Fischer, Mark Hamill.
Duration: 136
Language: English
Rating: M
Release Date: 13 December, 2017

Experience it on EXIMAX, Adelaide's Largest Screen!
In one of the year's most anticipated films, director J.J. Abrams brings to the screen the long-awaited Star Wars seventh episode continuing George Lucas' blockbuster space opera. Set 30 years after the Battle of Endor and the events portrayed in Return of the Jedi, STAR WARS: THE FORCE AWAKENS features John Boyega, Daisy Ridley, Adam Driver, Oscar Isaac, Andy Serkis, Lupita Nyong'o, Domhnall Gleeson, and Max von Sydow. They will join the original stars of the saga, Harrison Ford, Carrie Fisher, Mark Hamill, Anthony Daniels, Peter Mayhew, and Kenny Baker.
Now Showing at
Palace Nova Eastend
TIMES & TICKETS FOR 'STAR WARS: THE FORCE AWAKENS'
There are presently no session times scheduled for this film. Times for new release films are generally available from 12pm on the Tuesday prior to release. Please check back later.