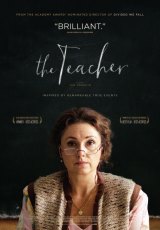 NOW SHOWING

The Teacher
Director: Jan Hrebejk
Cast: Zuzana Mauréry, Zuzana Konecná, Csongor Kassai
Duration: 102 mins
Language: Slovakian, With English subtitles
Rating: M
Release Date: 23 November, 2017

From Oscar-nominated writer/director Jan Hřebejk (Divided We Fall), THE TEACHER is a wildly entertaining black comedy inspired by the true story of a Communist-era school teacher who manipulated her pupils and their families for unprecedented personal gain.
The early 1980s, Czechoslovakia. It's the start of a new term at a suburban high school, and the seemingly empathetic new teacher Maria Drazdechova (Zuzana Maurery) greets her class. Soon after, she begins to pressure both students and parents by seeking personal favours. The rules are simple: you help her out, your children do well. You don't? Well, life can be hard for those deemed enemies of the state. But when a serious incident finally draws her unscrupulous behavior to the attention of her colleagues, the principal calls a secret meeting, seeking parents to sign a petition to move "Comrade Drazdechova" on from the school. But her high connections with the Communist Party hang above everyone in the room, and it's soon evident that standing up for what's right may be much easier said than done.
Now Showing at
Palace Nova Eastend
TIMES & TICKETS FOR 'THE TEACHER'
There are presently no session times scheduled for this film. Times for new release films are generally available from 12pm on the Tuesday prior to release. Please check back later.