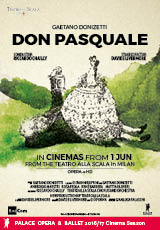 NOW SHOWING

La Scala: DON PASQUALE
Director: Riccardo Chailly
Cast: Ambrose Maestri, Rosa Feola, Norina
Duration: 145 mins
Language: Sung in Italian, with English subtitles.
Rating: CTC
Release Date: 3 June, 2018

New Production! Riccardo Chailly's journey through the Italian repertoire, which in 2017 brought back Rossini's The Thieving Magpie, continues with Donizetti's first title Don Pasquale. Davide Livermore's new production will see Ambrose Maestri, the Falstaff par excellence of these years, take on the title role, another figure suspended between comedy and melancholy with the disillusion of time. With him, Rosa Feola, as Norina.
Captured live from Teatro alla Scala, Milan, 19 Apr 2018.
Now Showing at
Palace Nova Eastend
TIMES & TICKETS FOR 'LA SCALA: DON PASQUALE'
There are presently no session times scheduled for this film. Times for new release films are generally available from 12pm on the Tuesday prior to release. Please check back later.