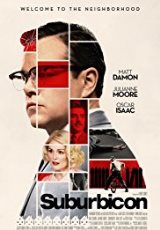 NOW SHOWING

Suburbicon
Director: George Clooney
Cast: Matt Damon, Julianne Moore, Oscar Isaac
Duration: 104 mins
Language: English
Rating: MA15+
Release Date: 26 October, 2017

Suburbicon is a peaceful, idyllic suburban community with affordable homes and manicured lawns... the perfect place to raise a family, and in the summer of 1959, the Lodge family is doing just that. But the tranquil surface masks a disturbing reality, as husband and father Gardner Lodge (Matt Damon) must navigate the town's dark underbelly of betrayal, deceit, and violence. This is a tale of very flawed people making very bad choices. This is Suburbicon.​
Now Showing at
Palace Nova Eastend
TIMES & TICKETS FOR 'SUBURBICON'
There are presently no session times scheduled for this film. Times for new release films are generally available from 12pm on the Tuesday prior to release. Please check back later.