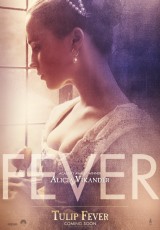 NOW SHOWING

Tulip Fever
Director: Justin Chadwick
Cast: Alicia Vikander, Dane DeHaan, Jack O'Connell
Duration: 105 mins
Rating: MA15+
Release Date: 23 November, 2017

In 17th Century Amsterdam, an orphaned girl (Alicia Vikander) is forcibly married to a rich and powerful merchant (Christoph Waltz) - an unhappy "arrangement" that saves her from poverty. After her husband commissions a portrait, she begins a passionate affair with the painter (Dane DeHaan), a struggling young artist. Seeking to escape the merchant's ever-reaching grasp, the lovers risk everything and enter the frenzied tulip bulb market, with the hope that the right bulb will make a fortune and buy their freedom.
Now Showing at
Palace Nova Eastend
TIMES & TICKETS FOR 'TULIP FEVER'
There are presently no session times scheduled for this film. Times for new release films are generally available from 12pm on the Tuesday prior to release. Please check back later.