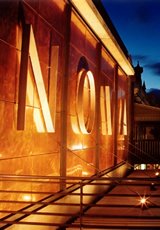 OUR CINEMAS
Palace Nova Eastend
Address: Rundle Street, Adelaide
Phone: (08) 8232 3434

Palace Nova Cinemas is pleased to announce that, after more than a decade of operating as one business, over two buildings, Palace Nova Eastend will merge into the one building on Cinema Pl - as the brand merged all those years ago.
Work is already underway on the Eastend site to expand to 12-screens and then continue to enhance our offering.
It is an exciting year ahead for Palace Nova Cinemas!
Full Press Release: http://eepurl.com/cnuXLD
_________________________________________________________________
The Nova & Palace Cinemas opened in 1996 & 1997 respectively. The turn of the century saw the two cinemas joine forces in South Australia, to become what you now know as Palace Nova Cinemas - with Eastend added as an appropriate location reference. In 2009 the Imax building also came on board; adding to the business its flagship screen, the 'ExiMax' - Adelaide's Largest Screen, increasing the number of screens to 10.
The Cinemas are located in the heart of the city CBD's vibrant East End, on cosmopolitan Rundle Street. The entry is accessed via 3 Cinema Pl (off 250 Rundle St).
We are not a franchised group or public-listed company. We are proud to offer an alternative to multiplex (or mainstream) cinemas, in that we run a mix of fine film, blockbusters, operas, special events, and film festivals.
We set ourselves further apart by presenting this varied film offering in a sophisticated environment. All our cinemas are licensed throughout, providing not only the usual cinema food of popcorn and soft drink; but also an extensive wine list, barista coffee, cheese and antipasto platters. In December 2011 Palace Nova completed conversion of all cinemas to the latest, innovative, high-quality digital projection standard.
There is plenty of public parking in the Rundle Street area: try the Ezy Park accessed from Union & Frome Streets; Centrepoint Car Park on the corner of Rundle & Pulteney Streets; Bent Street Car Park; and U Park on Frome Street & North Tce.
If you're using public transport, the Adelaide Metro Free Cityloop 99C bus service will drop you within an easy 3 minute stroll of our cinemas. Alight at stop 29 (Grenfell St) or 30 (East Terrace).
TIMES & TICKETS FOR PALACE NOVA EASTEND
Step 1:
Please select a DAY
Step 2:
Click on session time to buy
SELECT MOVIE/TIME
Please select a DAY first
COMING SOON TO PALACE NOVA EASTEND