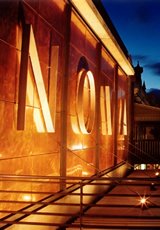 OUR CINEMAS
Palace Nova Eastend
Address: Rundle Street, Adelaide
Phone: (08) 8125 9312

Palace Nova Cinemas – 12 fully-licensed cinemas, from 17 – 290 seats, in the heart of the city, including ExiMax, Adelaide's Largest Screen!
Adelaide's ultimate sophisticated entertainment experience connects the audiences of South Australia with the world's best films: arthouse, hollywood, festivals and events!
Palace Nova Eastend is located in the heart of the city CBD's vibrant East End, on cosmopolitan Rundle Street – entry is accessed via 3 Cinema Pl (off 250 Rundle St). With the Palace Nova Prospect development, underway for late 2017.
Socialise with us #PalaceNova #ExiMax
Facebook.com/PalaceNovaCinemas
Twitter.com/PalaceNova
_________________________________________________________________
The Cinema Nova & Palace Cinemas opened in 1996 & 1997 respectively. The turn of the century saw the two cinemas join forces in South Australia, to become what you now know as Palace Nova Cinemas - with Eastend added as an appropriate location reference. In 2009 the Imax building also came on board; adding to the business its flagship screen, the 'ExiMax' - Adelaide's Largest Screen, increasing the number of screens to 10.
After more than a decade of operating as one business, over two buildings, November 2016 saw the merging of Palace Nova Eastend into the one building – as the brand merged all those years ago. Of the 7 Cinemas in the Palace/Imax building 5-7 were converted into 5-12. This allowed Palace Nova to incorporate luxury, boutique seating, in a range of theatre capacities, for that intimate atmosphere that is the future of cinema. Full Press Release: http://eepurl.com/cnuXLD
We are not a franchised group or public-listed company. We are proud to offer an alternative to multiplex (or mainstream) cinemas, in that we run a mix of fine film, blockbusters, operas, special events, and film festivals. We set ourselves further apart by presenting this varied film offering in a sophisticated environment. All our cinemas are licensed throughout, providing not only the usual cinema food of popcorn and soft drink; but also an extensive wine list, barista coffee, cheese and antipasto platters. In December 2011 Palace Nova completed conversion of all cinemas to the latest, innovative, high-quality digital projection standard, DCP.
TIMES & TICKETS FOR PALACE NOVA EASTEND
Step 1:
Please select a DAY
Step 2:
Click on session time to buy
SELECT MOVIE/TIME
Please select a DAY first
COMING SOON TO PALACE NOVA EASTEND