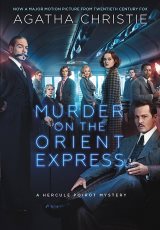 NOW SHOWING

Murder on the Orient Express
Director: Kenneth Branagh
Cast: Johnny Depp, Michelle, Daisy Ridley, Judi Dench, Penelope Cruz, Kenneth Branagh, Willem Dafoe, Josh Gad
Duration: 114 mins
Language: English
Rating: M
Release Date: 9 November, 2017

A lavish train ride unfolds into a stylish & suspenseful mystery. From the novel by Agatha Christie, Murder on the Orient Express tells of thirteen stranded strangers & one man's race to solve the puzzle before the murderer strikes again.
Now Showing at
Palace Nova Eastend
TIMES & TICKETS FOR 'MURDER ON THE ORIENT EXPRESS'
There are presently no session times scheduled for this film. Times for new release films are generally available from 12pm on the Tuesday prior to release. Please check back later.