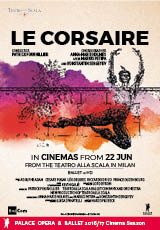 COMING SOON

La Scala Ballet: LE CORSAIRE
Director: Anna-Maria Holmes
Duration: 140 mins
Rating: CTC
Release Date: 24 June, 2018

New Production! Acclaimed Canadian choreographer Anna-Maria Holmes's exhilarating production, seen at the American Ballet Theatre and English National Ballet, invades the stage at La Scala with new sets and costumes by Luisa Spinatelli. Filled with action, passion and romance, this swashbuckling comedy follows a dashing pirate, Conrad, as he journeys across the high seas to save his beautiful harem girl Medora. An exotic, breathtaking spectacle.
Captured live from Teatro alla Scala, Milan, 16 May 2018.
Coming Soon to
Palace Nova Eastend
MOVIES COMING SOON
31 March, 2018
22 April, 2018
28 April, 2018
26 May, 2018
3 June, 2018
16 June, 2018
24 June, 2018
8 July, 2018
14 July, 2018
22 July, 2018
5 August, 2018
19 August, 2018
TIMES & TICKETS FOR 'LA SCALA BALLET: LE CORSAIRE'
There are presently no session times scheduled for this film. Times for new release films are generally available from 12pm on the Tuesday prior to release. Please check back later.