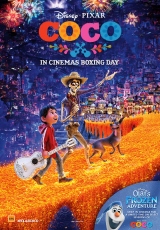 NOW SHOWING

Coco
Director: Lee Unkrich, Adrian Molina
Cast: Anthony Gonzalez, Gael García Bernal, Benjamin Bratt
Duration: 105 mins
Language: English
Rating: PG - Mild Themes
Release Date: 26 December, 2017

Despite his family's baffling generations-old ban on music, Miguel (voice of newcomer Anthony Gonzalez) dreams of becoming an accomplished musician like his idol, Ernesto de la Cruz (voice of Benjamin Bratt). Desperate to prove his talent, Miguel finds himself in the stunning and colorful Land of the Dead following a mysterious chain of events. Along the way, he meets charming trickster Hector (voice of Gael García Bernal), and together, they set off on an extraordinary journey to unlock the real story behind Miguel's family history.
Now Showing at
Palace Nova Eastend
TIMES & TICKETS FOR 'COCO'
There are presently no session times scheduled for this film. Times for new release films are generally available from 12pm on the Tuesday prior to release. Please check back later.