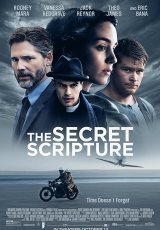 NOW SHOWING

The Secret Scripture
Director: Jim Sheridan
Cast: Rooney Mara, Aidan Turner, Theo James
Duration: 108 mins
Language: English
Rating: M - Mature themes, sex scene and coarse language
Release Date: 7 December, 2017

A psychiatrist (Eric Bana) examines Roseanne McNulty (Vanessa Redgrave), an elderly Irishwoman living in a mental institution, and learns more about her past in the process. Rooney Mara plays McNulty as a young woman, in flashbacks that detail her love triangle with a fighter pilot (Jack Reynor) and a priest (Theo James). Directed by Jim Sheridan, The Secret Scripture is based on the novel of the same name by Sebastian Barry.
Now Showing at
Palace Nova Eastend
TIMES & TICKETS FOR 'THE SECRET SCRIPTURE'
There are presently no session times scheduled for this film. Times for new release films are generally available from 12pm on the Tuesday prior to release. Please check back later.