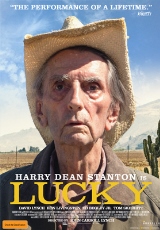 NOW SHOWING

Lucky
Director: John Carroll Lynch
Cast: Harry Dean Stanton, David Lynch, Ron Livingston
Duration: 88 mins
Language: English
Rating: MA15+
Release Date: 16 November, 2017

LUCKY follows the spiritual journey of a 90-year-old atheist and the quirky characters that inhabit his off the map desert town. Having out lived and out smoked all of his contemporaries, the fiercely independent Lucky finds himself at the precipice of life, thrust into a journey of self exploration, leading towards that which is so often unattainable: enlightenment. Acclaimed character actor John Carroll Lynch's directorial debut "Lucky", is at once a love letter to the life and career of Harry Dean Stanton as well as a meditation on morality, loneliness, spirituality, and human connection.
Now Showing at
Palace Nova Eastend
TIMES & TICKETS FOR 'LUCKY'
There are presently no session times scheduled for this film. Times for new release films are generally available from 12pm on the Tuesday prior to release. Please check back later.