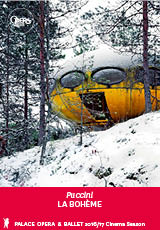 NOW SHOWING

Opéra de Paris: LA BOHÈME (Puccini)
Director: Claus Guth
Cast: Atalla Ayan, Sonya Yoncheva
Duration: 155 mins
Language: Sung in Italian, with English subtitles.
Rating: CTC
Release Date: 4 February, 2018

New Production! Is it because Henri Murger had himself lived this way in his youth? No one better described the half-starved, struggling artists than the writer in his Scènes de la Vie de Bohème: artists ready to burn a manuscript to try to keep warm yet, in an era of triumphant bourgeois materialism, dreaming of another existence. Taking up these scenes of Bohemian life, Puccini offers us a heart-breaking love story and some of the most beautiful music in the history of opera in the story of the poet Rodolfo (Atalla Ayan) and fragile Mimì (Sonya Yoncheva). The staging of this new production has been entrusted to Claus Guth who sets the drama in a future devoid of hope in which love and art become the sole means of transcendence. The brilliant Gustavo Dudamel conducts.
Captured live from Opéra Bastille, Paris, 12 Dec 2017.
Now Showing at
Palace Nova Eastend
TIMES & TICKETS FOR 'OPéRA DE PARIS: LA BOHÈME (PUCCINI)'
There are presently no session times scheduled for this film. Times for new release films are generally available from 12pm on the Tuesday prior to release. Please check back later.