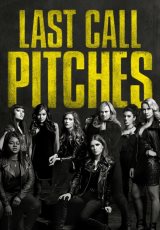 NOW SHOWING

Pitch Perfect 3
Director: Trish Sie
Cast: Ruby Rose, Hailee Steinfeld, Anna Kendrick
Language: English
Rating: CTC
Release Date: 4 January, 2018

Following their win at the world championship, the now separated Bellas reunite for one last singing competition at an overseas USO tour, but face a group who uses both instruments and voices.
Now Showing at
Palace Nova Eastend
TIMES & TICKETS FOR 'PITCH PERFECT 3 '
There are presently no session times scheduled for this film. Times for new release films are generally available from 12pm on the Tuesday prior to release. Please check back later.