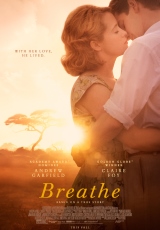 NOW SHOWING

Breathe
Director: Andy Serkis
Cast: Andrew Garfield, Claire Foy, Hugh Bonneville
Duration: 118 mins
Language: English
Rating: M
Release Date: 26 December, 2017

For his directorial debut, Andy Serkis brings to life the inspiring true love story between Robin and Diana Cavendish (Andrew Garfield, Claire Foy), an adventurous couple who refuse to give up in the face of a devastating disease. When Robin is struck down by polio at the age of 28, he is confined to a hospital bed and given only a few months to live. With the help of Diana's twin brothers (Tom Hollander) and the groundbreaking ideas of inventor Teddy Hall (Hugh Bonneville), Robin and Diana dare to escape the hospital ward to seek out a full and passionate life together - raising their young son, traveling and devoting their lives to helping other polio patients. Written by two-time Academy Award nominated writer William Nicholson, and shot by three-time Academy Award winner Robert Richardson, BREATHE is a heartwarming celebration of love and human possibility.
Now Showing at
Palace Nova Eastend
TIMES & TICKETS FOR 'BREATHE'
There are presently no session times scheduled for this film. Times for new release films are generally available from 12pm on the Tuesday prior to release. Please check back later.