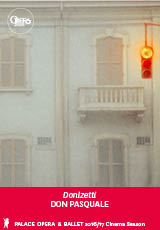 NOW SHOWING

Opéra de Paris: DON PASQUALE
Director: Damiano Michieletto
Cast: Michele Pertusi, Lawrence Brownlee, Nadine Sierra
Duration: 145 mins
Language: Sung in Italian, with English subtitles.
Rating: CTC
Release Date: 19 August, 2018

New Production! "Foolish indeed is he who marries in old age." Thus ends Don Pasquale: with a wise dictum not lacking in irony that sums up the disappointments of its hero (Italian bass Michele Pertusi), a rich bachelor keen to marry, who is deceived by his nephew Ernesto (award-winning American bel-canto Lawrence Brownlee) and his young bride-to-be Norina (rising soprano Nadine Sierra). First performed in Paris in 1843, at the turning point of several eras, Donizetti's composite and varied work is the apotheosis of opera bu a. For this new production, the Paris Opera has entrusted award-winning Italian director Damiano Michieletto who'll transport audiences directly to the sincerity and dramatic splendour at the heart of an apparently light-hearted work.
Captured live from Palais Garnier, Paris, 19 Jun 2018.
Now Showing at
Palace Nova Eastend
TIMES & TICKETS FOR 'OPéRA DE PARIS: DON PASQUALE'
There are presently no session times scheduled for this film. Times for new release films are generally available from 12pm on the Tuesday prior to release. Please check back later.