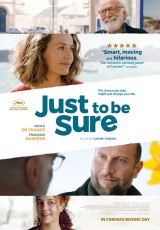 NOW SHOWING

Just to be Sure
Director: Carine Tardieu
Cast: François Damiens, Cécile De France, Andre Wilms
Duration: 100 mins
Language: French with English subtitles
Rating: M - Coarse Language
Release Date: 26 December, 2017

The breakout comedy hit of the 2017 Cannes and French Film Festivals, writer/director Carine Tardieu's feel-great romance JUST TO BE SURE is a winning tale of parenthood, love and family, both lost and found.
When lonely 45 year old widower Erwan (the remarkable François Damiens, The Bélier Family) discovers by accident that the man who raised him isn't his real dad, he begins a search for his biological father. He soon locates the mischievous, 70 something Joseph (Le Havre's Andre Wilms), whom it seems his mother may have known briefly. Erwan falls not only for his charm, but that of the impetuous Anna (Cecile de France), who has ties to them both. The conflicting familial loyalties soon become compounded by the pregnancy of his own daughter, who defiantly refuses to name the father... very soon Erwan's families begin to collide, to unexpected, hilarious and moving effect.
Now Showing at
Palace Nova Eastend
TIMES & TICKETS FOR 'JUST TO BE SURE'
There are presently no session times scheduled for this film. Times for new release films are generally available from 12pm on the Tuesday prior to release. Please check back later.