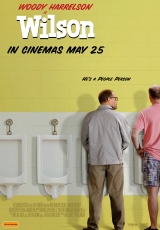 NOW SHOWING

Wilson
Director: Craig Johnson
Cast: Woody Harrelson, Sandy Oian, Shaun Brown
Duration: 94 mins
Language: English
Rating: MA15+ - Strong coarse language
Release Date: 25 May, 2017

Woody Harrelson stars as Wilson, a lonely, neurotic and hilariously honest middle-aged misanthrope who reunites with his estranged wife (Laura Dern) and gets a shot at happiness when he learns he has a teenage daughter (Isabella Amara) he has never met. In his uniquely outrageous and slightly twisted way, he sets out to connect with her.
WILSON is an imaginative and often hilarious journey of self-discovery from director Craig Johnson (The Skeleton Twins). Written by Academy Award®-nominated screenwriter Daniel Clowes and based on his iconic graphic novel of the same name, WILSON is a sharply observed portrait of an overly candid misfit bumbling his way through life, often with haphazard success.
Now Showing at
TIMES & TICKETS FOR 'WILSON'
There are presently no session times scheduled for this film. Times for new release films are generally available from 12pm on the Tuesday prior to release. Please check back later.