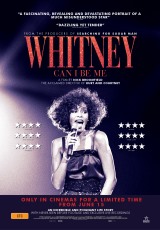 NOW SHOWING

Whitney: Can I Be Me
Director: Nick Broomfield, Rudi Dolezal
Cast: Whitney Houston
Duration: 105 mins
Language: English
Rating: M - Mature themes and coarse language
Release Date: 15 June, 2017

From acclaimed director Nick Broomfield comes a new film about one of the greatest singers of all time. Whitney Houston was the epitome of a superstar, an "American Princess," the most awarded female artist ever.
Even though Whitney had made millions of dollars, had more consecutive number ones than The Beatles, and became recognized as having one of the greatest voices of all time, she still wasn't free to be herself and died at just 48 years old.
Made with largely never-seen before footage and exclusive live recordings, WHITNEY: CAN I BE ME tells Whitney Houston's incredible and poignant life story with insights from those closest to her.
Now Showing at
TIMES & TICKETS FOR 'WHITNEY: CAN I BE ME'
There are presently no session times scheduled for this film. Times for new release films are generally available from 12pm on the Tuesday prior to release. Please check back later.