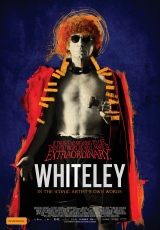 NOW SHOWING

Whiteley
Director: James Bogle
Cast: Jack Barns, Andrew Blaikie, Sebastian Craig
Duration: 94 mins
Language: English
Rating: M - Mature themes and occasional coarse language
Release Date: 11 May, 2017

Brett Whiteley is an Australian cultural icon. Nearly a quarter century after his death, there has never been anyone like Whiteley in the history of Australian art.
WHITELEY is a visual journey into the life and legacy of one of Australia's most celebrated artists. The story, told in Brett's own voice, opens a rare window into an artist's mind.
While his brief, dazzling life was erratic, combustible and tragic, Whiteley also created a highly productive and brilliant artistic vortex around which much of our 70s and 80s sense of self-worth as an aggressively creative nation emerged.
Now Showing at
Palace Nova Eastend
TIMES & TICKETS FOR 'WHITELEY'
Step 1:
Please select a CINEMA
Step 2:
Click on session time to buy
SELECT DAY/TIME
Please select a CINEMA first