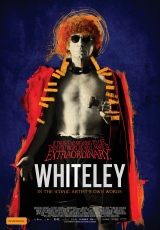 NOW SHOWING

Whiteley
Director: James Bogle
Cast: Jack Barns, Andrew Blaikie, Sebastian Craig
Duration: 94 mins
Language: English
Rating: M - Mature themes and occasional coarse language
Release Date: 11 May, 2017

Brett Whiteley is an Australian cultural icon. Nearly a quarter century after his death, there has never been anyone like Whiteley in the history of Australian art.
WHITELEY is a visual journey into the life and legacy of one of Australia's most celebrated artists. The story, told in Brett's own voice, opens a rare window into an artist's mind.
While his brief, dazzling life was erratic, combustible and tragic, Whiteley also created a highly productive and brilliant artistic vortex around which much of our 70s and 80s sense of self-worth as an aggressively creative nation emerged.
Now Showing at
TIMES & TICKETS FOR 'WHITELEY'
There are presently no session times scheduled for this film. Times for new release films are generally available from 12pm on the Tuesday prior to release. Please check back later.