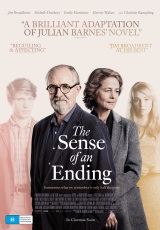 NOW SHOWING

The Sense of an Ending
Director: Ritesh Batra
Cast: Jim Broadbent, Charlotte Rampling, Harriet Walter
Duration: 108 mins
Language: English
Rating: M - Mature themes, sex scenes and coarse language
Release Date: 25 May, 2017

From Ritesh Batra, director of The Lunchbox, THE SENSE OF AN ENDING stars Jim Broadbent as Tony Webster, divorced and retired he leads a reclusive and quiet existence. But Tony's past comes out from the shadows and forces him to face the flawed recollections of his younger self, the truth about his first love and the devastating consequences of decisions made a lifetime ago.
A thoughtful, intelligent film that has more than a few thematic threads in common with Atonement, THE SENSE OF AN ENDING explores how memory contributes to how we contextualise our lives, and the damage done when we fail to realise memory is always subjective.
Now Showing at
TIMES & TICKETS FOR 'THE SENSE OF AN ENDING '
There are presently no session times scheduled for this film. Times for new release films are generally available from 12pm on the Tuesday prior to release. Please check back later.