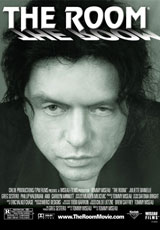 NOW SHOWING

The Room
Director: Tommy Wiseau
Cast: Tommy Wiseau, Juliette Danielle, Greg Sestero
Duration: 99 mins
Language: English
Rating: M - Mature themes, sex scenes and coarse language
Release Date: 2 December, 2017

Back by Popular Demand for a once of special screening
Adelaide audiences just can't get enough of THE ROOM:
"I've seen it twice, any chance of more late night movies?"; "As for the film, it really is terrible, but I'm gathering up my own crowd, and I'll be back next Saturday, spoons in hand!"; 'Complete madness, love the bar in the cinema".
"The Room" Promo | Palace Nova Cinemas from Optic Factory Productions on Vimeo.
Described as "the Citizen Kane of bad movies" and "the modern day Rocky Horror" the late-night cult phenomenon returns for even more mayhem!
Written, directed, produced by and starring Tommy Wiseau, THE ROOM is unlike anything you have seen before. Originally billed as 'a film with the passion of Tennessee Williams' the story centres on a love-triangle that takes melodrama to new limits.
Johnny (Tommy Wiseau) seems to have it all- a beautiful fiancée, Lisa, great friends and a job with a promotion in the works. But Lisa, (Juliette Danielle) isn't who she seems. Manipulative and restless, Lisa sets her sights on Johnny's best friend Mark (Greg Sestero) and they start a torrid affair and Johnny's perfect world starts to crumble…
THE ROOM sank without trace after its 2003 release, faced with crowds laughing at his masterpiece, a lesser man might have lost faith, but Wiseau has happily re-badged THE ROOM as a 'black comedy'. A group of curious hipsters tracked THE ROOM down after noticing the LA billboard Tommy had booked, garnering a massive cult following, selling out sessions across the US and Australia, leaving audiences stunned and wondering "how can so bad, be so good?". Now people holler the dialogue at late-night sessions, throw plastic spoons at the screen and clap raucously, or groan, during the bow-chicka-wow-wow sex scenes.
Now Showing at
"Unforgettable!" Contender for the "worst movie ever made." See it at a late night screening where you can hoot with derision among a like-minded crowd."
Filmcritic.com
TIMES & TICKETS FOR 'THE ROOM'
There are presently no session times scheduled for this film. Times for new release films are generally available from 12pm on the Tuesday prior to release. Please check back later.