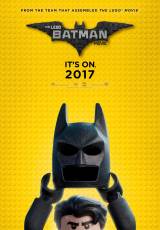 NOW SHOWING

The Lego Batman Movie
Director: Chris McKay
Cast: Jenny Slate, Zach Galifianakis, Rosario Dawson
Duration: 104 mins
Language: English
Rating: PG - Mild themes and animated violence
Release Date: 30 March, 2017

In the irreverent spirit of fun that made The LEGO® Movie a worldwide phenomenon, the self-described leading man of that ensemble LEGO Batman stars in his own big-screen adventure. But there are big changes brewing in Gotham, and if he wants to save the city from The Joker's hostile takeover, Batman may have to drop the lone vigilante thing, try to work with others and maybe, just maybe, learn to lighten up.
Now Showing at
TIMES & TICKETS FOR 'THE LEGO BATMAN MOVIE'
There are presently no session times scheduled for this film. Times for new release films are generally available from 12pm on the Tuesday prior to release. Please check back later.