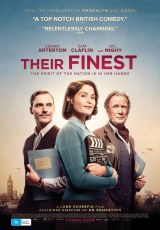 NOW SHOWING

Their Finest
Director: Lone Scherfig
Cast: Gemma Arterton, Sam Claflin, Bill Nighy
Duration: 117
Language: English
Rating: M - Mature themes, sex scene and coarse language
Release Date: 20 April, 2017

1940, London, the Blitz; with the country's morale at stake, Catrin (Gemma Arterton), an untried screenwriter, and a makeshift cast and crew, work under fire to make a film to lift the nation's spirits - and inspire America to join the war. A witty, romantic and moving portrayal of a young woman finding her way, and her voice, in the mayhem of war... and the movies.
Now Showing at
TIMES & TICKETS FOR 'THEIR FINEST'
There are presently no session times scheduled for this film. Times for new release films are generally available from 12pm on the Tuesday prior to release. Please check back later.