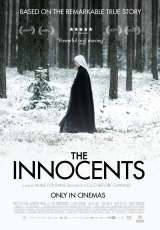 NOW SHOWING

The Innocents
Director: Anne Fontaine
Cast: Lou de Laâge, Agata Buzek, Agata Kulesza
Duration: 115 mins
Language: French with English subtitles
Rating: M - Mature themes and sexual violence
Release Date: 27 April, 2017

Poland, winter of 1945. Mathilde Beaulieu (Lou de Lâage) is a young intern working with a branch of the French Red Cross. They are on a mission to find, treat and repatriate French survivors of the German camps. One day, a Polish nun arrives in the hospital. In very poor French, she begs Mathilde to come to her convent. Mathilde life and beliefs change when she discovers the advanced state of pregnancy that affect several of the Sisters of the convent just outside the hospital where she performs.
Now Showing at
TIMES & TICKETS FOR 'THE INNOCENTS'
There are presently no session times scheduled for this film. Times for new release films are generally available from 12pm on the Tuesday prior to release. Please check back later.