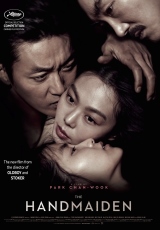 NOW SHOWING

The Handmaiden
Director: Park Chan-Wook
Cast: Min-hee Kim, Kim Tae-ri, Jung-woo Ha
Duration: 144 mins
Rating: R18+ - High impact sex scenes
Release Date: 13 October, 2016

Transposing the Victorian setting of the original into a vividly realised and sumptuously shot 1930s Korea, Park delivers a work of razor-sharp humour and unexpected pleasures that will have you guessing until the final piece of clothing drops to the floor.
Sooki, a beautiful young pickpocket, has been dispatched by a master conman known as The Count to become handmaiden to naive Japanese heiress Hideko (Kim Min-hee, also seen in Right Now, Wrong Then). The plan: lure Hideko into falling in love with The Count and as soon as they're married lock her in a mental asylum and claim her vast fortune. However, Hideko is far from what she seems and when handmaiden and mistress fall in love, the stage is set for a dangerous and sexually explicit power play that could leave all three of them unmoored.
Now Showing at
OFFICIAL SELECTION | 2016 Cannes Film Festival
RUNNER UP | 2016 Melbourne International Film Festival
Most Popular Feature Film
TIMES & TICKETS FOR 'THE HANDMAIDEN'
There are presently no session times scheduled for this film. Times for new release films are generally available from 12pm on the Tuesday prior to release. Please check back later.