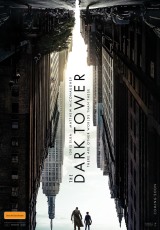 NOW SHOWING

The Dark Tower
Director: Nikolaj Arcel
Cast: Katheryn Winnick, Matthew McConaughey, Idris Elba
Duration: 141 mins
Language: English
Rating: M
Release Date: 17 August, 2017

There are other worlds than these.
Stephen King's The Dark Tower, the ambitious and expansive story from one of the world's most celebrated authors, makes its launch to the big screen.
The last Knight Warrior, Roland Deschain (Idris Elba), has been locked in an eternal battle with Walter O'Dim, also known as the Man in Black (Matthew McConaughey), determined to prevent him from toppling the Dark Tower, which holds the universe together. With the fate of the worlds at stake, good and evil will collide in the ultimate battle as only Roland can defend the Tower from the Man in Black.
Now Showing at
TIMES & TICKETS FOR 'THE DARK TOWER'
There are presently no session times scheduled for this film. Times for new release films are generally available from 12pm on the Tuesday prior to release. Please check back later.