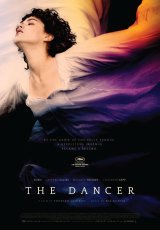 COMING SOON

The Dancer
Director: Stephanie Di Giusto
Cast: Soko, Gaspard Ulliel, Melanie Thierry
Duration: 120 mins
Rating: CTC
Release Date: 28 September, 2017

French singer/actress Soko (Augustine) and ingénue-of-the-moment Lily-Rose Depp lead a star-studded cast in Stéphanie Di Giusto's spectacularly mounted screen biography, inspired by the true story of two rival pioneers of modern dance and theatrical presentation in late 19th-century Paris.

Nothing in her background destined Loïe Fuller (Soko), born in the American Midwest, to become the toast of the Belle Epoque cabarets – or to perform at the Paris Opera. Hidden behind metres of silk, her arms extended by long wooden rods, the athletic Fuller was able to reinvent her body on stage, enthralling her audiences a little more every night with her revolutionary "Serpentine" dance.
Dazzling the capital, she became an icon, the blazing symbol of a generation. Eminent admirers fell to her feet: Toulouse-Lautrec, the Lumière Brothers, Rodin. Even if the physical effort risked destroying her back, even if the glare of the stage lights seared her eyes, she never faltered in the quest to perfect her art. But it was Loïe's meeting with Isadora Duncan (Depp) – a beautiful young prodigy hungry for glory – that threatened everything: her stature, her confidence, and her sanity.

With excellent support from Gaspard Ulliel, Mélanie Thierry, Louis-Do de Lencquesaing and François Damiens, this gorgeously realised debut charts the remarkable destiny of a woman ahead of her time, one who revolutionised her art to a degree that still astounds over a century later.
Coming Soon to
Palace Nova Eastend
MOVIES COMING SOON
28 September, 2017
30 September, 2017
5 October, 2017
7 October, 2017
12 October, 2017
14 October, 2017
22 October, 2017
26 October, 2017
28 October, 2017
2 November, 2017
4 November, 2017
11 November, 2017
16 November, 2017
2 December, 2017
9 December, 2017
14 December, 2017
26 December, 2017
10 February, 2018
15 February, 2018
3 March, 2018
31 March, 2018
28 April, 2018
26 May, 2018
16 June, 2018
14 July, 2018
TIMES & TICKETS FOR 'THE DANCER'
There are presently no session times scheduled for this film. Times for new release films are generally available from 12pm on the Tuesday prior to release. Please check back later.