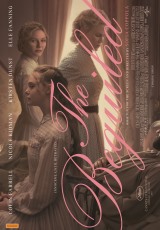 NOW SHOWING

The Beguiled
Director: Sofia Coppola
Cast: Nicole Kidman, Kirsten Dunst, Elle Fanning, Colin Farrell
Duration: 94 mins
Language: English
Rating: M - Mature themes and sex
Release Date: 13 July, 2017

Employing her distinctive aesthetic and sensual style with THE BEGUILED, Sofia Coppola adapts Thomas Cullinan's Civil War-set novel into a tale of desire, jealousy and revenge.
Set in 1864, three years into the Civil War, at a Southern girls' boarding school, the girls who remain are those with nowhere else to go. So remaining under the care of Martha Farnsworth (Kidman) they live in their own prim and proper world void of any male influence.
When one of the younger girls discovers an injured enemy soldier it is decided that the 'Christian thing to do' would be to take him in until he is sufficiently recovered. As the soldier, John McBurney (Farrell), recovers he becomes the subject of fascination for the girls and women of the house.
Sexual tension rises and rivalries form between the women as unexpected events begin to arise.
Now Showing at
WINNER | Cannes Film Festival 2017
Best Director: Sofia Coppola
TIMES & TICKETS FOR 'THE BEGUILED'
There are presently no session times scheduled for this film. Times for new release films are generally available from 12pm on the Tuesday prior to release. Please check back later.