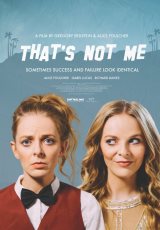 NOW SHOWING

That's Not Me
Director: Gregory Erdstein
Cast: Alice Foulcher, Isabel Lucas, Richard Davies
Duration: 86 mins
Language: English
Rating: MA15+
Release Date: 7 September, 2017

Polly's dreams of making it as an actor are shattered when her identical twin sister Amy lands the lead role in a huge TV show. Mistaken for her famous sister at every turn, Polly decides to use Amy's celebrity status for her own advantage – free clothes, free booze, casual sex… with hilarious and disastrous consequences for them both.
Raw and refreshing in its humour, THAT'S NOT ME is a feel-good comedy about the difference between failure and disappointment. We can't all be Oscar winners. Not everyone will make it. But is that such a bad thing?
Now Showing at
TIMES & TICKETS FOR 'THAT'S NOT ME'
There are presently no session times scheduled for this film. Times for new release films are generally available from 12pm on the Tuesday prior to release. Please check back later.