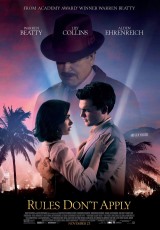 NOW SHOWING

Rules Don't Apply
Director: Warren Beatty
Cast: Lily Collins, Alden Ehrenreich, Warren Beatty, Haley Bennett, Taissa Farmiga
Duration: 127 mins
Language: English
Rating: M - Sexual references and coarse language
Release Date: 27 April, 2017

An aspiring young actress (Lily Collins) and her ambitious young driver (Alden Ehrenreich) struggle hopefully with the absurd eccentricities of the wildly unpredictable billionaire Howard Hughes (Warren Beatty) for whom they work.
It's Hollywood, 1958. Small town beauty queen, songwriter, and devout Baptist virgin Marla Mabrey (Collins), under contract to the infamous Howard Hughes (Beatty), arrives in Los Angeles. At the airport, she meets her driver Frank Forbes (Ehrenreich), who is engaged to be married to his 7th grade sweetheart and is a deeply religious Methodist. Their instant attraction not only puts their religious convictions to the test, but also defies Hughes' #1 rule: no employee is allowed to have any relationship whatsoever with a contract actress. Hughes' behavior intersects with Marla and Frank in very separate and unexpected ways, and as they are drawn deeper into his bizarre world, their values are challenged and their lives are changed.
Now Showing at
1 NOM | Golden Globe Awards 2017
Best Actress in a Motion Picture - Musical or Comedy (Lily Collins)
Beatty's vision of showbiz corruption... he's created the most wistful and complex portrait of Hughes I've ever seen.
-J.R. Jones, CHICAGO READER
Like everything this star-director has done, the film is deceptively smart.
-Joshua Rothkopf, TIME OUT
It may be hyperbolic to describe Warren Beatty's Howard Hughes movie, "Rules Don't Apply," as a screwball "Citizen Kane." But that's what it feels like.
-Stephen Holden, NEW YORK TIMES
TIMES & TICKETS FOR 'RULES DON'T APPLY'
There are presently no session times scheduled for this film. Times for new release films are generally available from 12pm on the Tuesday prior to release. Please check back later.