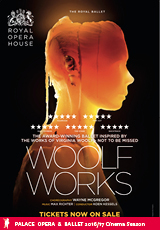 NOW SHOWING

Royal Ballet: WOOLF WORKS
Rating: CTC
Release Date: 19 March, 2017

Limited Season - March 19 & 22
More Palace Opera & Ballet Season
The life and works of Virginia Woolf is the inspiration for multi award-winning choreographer Wayne McGregor's extraordinary triptych for The Royal Ballet, a deeply moving meditation of the 20th-century genius.
Described by The Guardian as "exhilarating and ravishingly expressive", the three-act Olivier Award Winning ballet is inspired by three of Woolf's novels Mrs Dalloway, Orlando and The Waves, and draws on aspects of the novelists own life. This innovative interpretation of the heightened, startling and poignant qualities of Woolf's perception of herself is captured by the breath-taking soundscape of Max Richter's haunting score.
Performed by a large ensemble of The Royal Ballet's most powerful and talented dancers, the role of Virginia Woolf is danced by Alessandra Ferri who returned to The Royal Ballet stage after leaving the Company in 1985 to become a Principal dancer at American Ballet Theatre. She will dance alongside Principals Sarah Lamb, Natalia Osipova, Akane Takada, Francesca Hayward, Federico Bonelli, Steven McRae and Edward Watson.
Conductor: Koen Kessels
Orchestra: Orchestra of the Royal Opera House
Cast: Alessandra Ferri, Sarah Lamb, Natalia Osipova, Steven McRae, Federico Bonelli, Akane Takada, Francesca Hayward, Edward Watson
Music: Max Richter
Choreography: Wayne McGregor
Designs: Ciguë, We Not I & Wayne McGregor
Now Showing at
TIMES & TICKETS FOR 'ROYAL BALLET: WOOLF WORKS'
There are presently no session times scheduled for this film. Times for new release films are generally available from 12pm on the Tuesday prior to release. Please check back later.