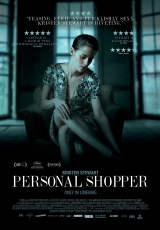 NOW SHOWING

Personal Shopper
Director: Olivier Assayas
Cast: Kristen Stewart, Lars Eidinger, Sigrid Bouaziz
Duration: 105 mins
Language: English
Rating: MA15+ - Strong scene of blood detail
Release Date: 13 April, 2017

Olivier Assayas, the internationally-acclaimed director of Clouds of Sils Maria and Summer Hours, returns with this ethereal and mysterious ghost story starring Kristen Stewart as ahigh-fashion personal shopper to the stars and poentially also a spiritual medium. Grieving the recent deathof her twin brother, she haunts his Paris home, determined to make contact with him.
Now Showing at
TIMES & TICKETS FOR 'PERSONAL SHOPPER'
There are presently no session times scheduled for this film. Times for new release films are generally available from 12pm on the Tuesday prior to release. Please check back later.