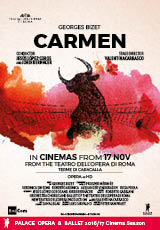 NOW SHOWING

Opera Roma: CARMEN (Bizet)
Director: Valentina Carrasco
Duration: 190
Language: Sung in French with English subtitles
Rating: CTC
Release Date: 19 November, 2017

New Production! Captured live over the European summer from the most evocative stage in the world, amidst the impressive ruins at the Baths of Caracalla, this colourful new production from exciting Latin director Valentina Carrasco of La Fura dels Baus, sets Bizet's masterful tale of the explosive, passionate, and destructive love of a woman who values her freedom above all else not in 19th Century Spain, but on the border between Mexico and the United States, where President Trump has earmarked his famous wall. The star cast is led by acclaimed Italian mezzo-soprano Veronica Simeoni.
Captured live from Terme di Caracalla, Rome, 24 May 2016.
Now Showing at
TIMES & TICKETS FOR 'OPERA ROMA: CARMEN (BIZET)'
There are presently no session times scheduled for this film. Times for new release films are generally available from 12pm on the Tuesday prior to release. Please check back later.