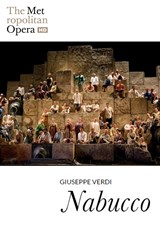 NOW SHOWING

New York Met Opera: NABUCCO
Duration: 189 mins
Language: Sung in Italian with Met Titles in English
Rating: CTC
Release Date: 30 September, 2017

Limited ENCORE Season - September 30 & October 1
More New York Metropolitan Opera Season
Met Music Director James Levine conducts Verdi's early drama of Ancient Babylon, Nabucco, with Plácido Domingo adding a new role to his repertory as the title character.
Liudmyla Monastyrska sings the tour-de-force role of Abigaille, Nabucco's willful daughter, with Jamie Barton as Fenena, Russell Thomas as Ismaele, and Dmitri Belosselskiy as the prophet Zaccaria, the role of his 2011 Met debut.
Conductor: James Levine
Production: Elijah Moshinsky
Set Designer: John Napier
Costume Designer: Andreane Neofitou
Lighting Designer: Howard Harrison
Cast: Liudmyla Monastyrska (Abigaille), Jamie Barton (Fenena), Russell Thomas (Ismaele), Plácido Domingo (Nabucco), Dmitry Belosselskiy (Zaccaria)
Now Showing at
TIMES & TICKETS FOR 'NEW YORK MET OPERA: NABUCCO'
There are presently no session times scheduled for this film. Times for new release films are generally available from 12pm on the Tuesday prior to release. Please check back later.