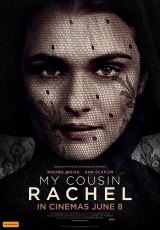 NOW SHOWING

My Cousin Rachel
Director: Roger Michell
Cast: Holliday Grainger, Sam Claflin, Rachel Weisz
Duration: 105 mins
Language: English
Rating: PG - Mild themes, violence and occasional coarse language
Release Date: 8 June, 2017

A dark romance, MY COUSIN RACHEL tells the story of a young Englishman who plots revenge against his mysterious, beautiful cousin, believing that she murdered his guardian. But his feelings become complicated as he finds himself falling under the beguiling spell of her charms.
Based on the novel by Daphne du Maurier, author of The Birds and Rebecca. Written for the screen and directed by Roger Michell (Le Week-End, Notting Hill, Persuasion).
Now Showing at
TIMES & TICKETS FOR 'MY COUSIN RACHEL'
There are presently no session times scheduled for this film. Times for new release films are generally available from 12pm on the Tuesday prior to release. Please check back later.