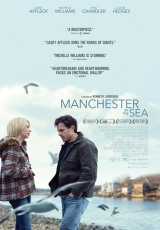 NOW SHOWING

Manchester By The Sea
Director: Kenneth Lonergan
Cast: Casey Affleck, Michelle Williams, Kyle Chandler, Lucas Hedges
Duration: 138 mins
Language: English
Rating: MA15+ - Strong coarse language
Release Date: 2 February, 2017

In MANCHESTER BY THE SEA, the latest film from award-winning writer and director Kenneth Lonergan, the life of a solitary Boston janitor is transformed when he returns to his hometown to take care of his teenage nephew.
The story of the Chandlers, a working-class family living in a Massachusetts fishing village for generations, Manchester by the Sea is a deeply poignant, unexpectedly funny exploration of the power of familial love, community, sacrifice and hope. After the death of his older brother Joe (Kyle Chandler), Lee Chandler (Casey Affleck) is shocked to learn that Joe has made him sole guardian of his nephew Patrick (Lucas Hedges). Taking leave of his job, Lee reluctantly returns to Manchester-by-the-Sea to care for Patrick, a spirited 16-year-old, and is forced to deal with a past that separated him from his wife Randi (Michelle Williams) and the community where he was born and raised. Bonded by the man who held their family together, Lee and Patrick struggle to adjust to a world without him.
In his first film since 2011's acclaimed Margaret, Lonergan once again proves himself a powerful and visionary storyteller as he seamlessly weaves past and present together, crafting a tension-filled tale that deftly eschews sentimentality in favor of penetrating emotional insight and deeply affecting human relationships.
Now Showing at
2x OSCAR WINS | Academy Awards 2017
Including: Actor in a Leading Role (Casey Affleck)
WINNER | Golden Globe Awards 2017
Best Actor in a Motion Picture - Drama (Casey Affleck)
Manchester by the Sea is formula-free and one of a kind, with only as much resolution as the steely grip of the past will allow.
-Joe Morgenstern, WALL STREET JOURNAL
"Manchester by the Sea" is a finely shaded portrait, a study in individual misery set in a place that is observed with care and affection.
-A.O. Scott, NEW YORK TIMES
No film this year has moved me more with its humor, heart and humanity. Engrave the name Casey Affleck on the Oscar for Best Actor right now, so extraordinary and engulfing is his performance.
-Peter Travers, ROLLING STONE
TIMES & TICKETS FOR 'MANCHESTER BY THE SEA'
There are presently no session times scheduled for this film. Times for new release films are generally available from 12pm on the Tuesday prior to release. Please check back later.