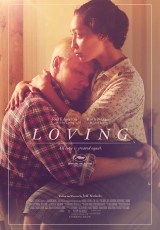 NOW SHOWING

Loving
Director: Jeff Nichols
Cast: Ruth Negga, Joel Edgerton, Will Dalton
Duration: 123 mins
Language: English
Rating: PG - Mild themes and coarse language
Release Date: 16 March, 2017

From acclaimed writer/director Jeff Nichols, LOVING celebrates the real-life courage and commitment of an interracial couple, Richard and Mildred Loving (portrayed by Joel Edgerton and Ruth Negga), who married and then spent the next nine years fighting for the right to live as a family in their hometown.
Their civil rights case, Loving v. Virginia, went all the way to the Supreme Court, which in 1967 reaffirmed the very foundation of the right to marry - and their love story has become an inspiration to couples ever since.
Now Showing at
The stabbing simplicity of Negga's acting is breathtaking. Jeff Nichols has given us a quietly devastating film that resonates for the here and now and marches to the cadences of history and the heart.
-Peter Travers, ROLLING STONE
TIMES & TICKETS FOR 'LOVING'
There are presently no session times scheduled for this film. Times for new release films are generally available from 12pm on the Tuesday prior to release. Please check back later.