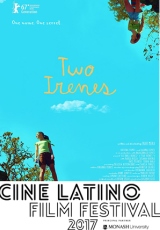 NOW SHOWING
LAT17 Two Irenes
Director: Fabio Meira
Cast: Priscila Bittencourt, Isabela Torres, Marco Ricca, Suzana Ribeiro & Inês Peixoto
Duration: 89 mins
Rating: 18+
Release Date: 16 November, 2017

Two teenage girls named Irene, but of contrasting personalities, discover a well-kept secret that brings them even closer together in this alluring and elegant coming-of-age tale.
Irene (Priscila Bittencourt) is a quiet 13 year-old girl living in a small town in Brazil. One summer, by chance, she discovers another Irene (Isabela Torres) who lives in the same town but is contrastingly confident and full of energy. Shy Irene is drawn to this new girl's charisma, as well as her liberal attitude, which is so radically different to Irene's traditional upbringing.
Soon, the two Irenes find themselves spending time together, bonding quickly. It isn't long before they discover something else, which proves to be the biggest revelation of their young lives. With both of their worlds upheaved, they are left to navigate the formation of their distinct identities, with the support – and friendship – of each other.
The Two Irenes is about more than just coincidental meetings. By allowing its two leading actresses to draw focus, it carefully creates a space to explore the nature of girlhood and adolescence in a way that is rivetting until the film's closing moments.
Now Showing at
WINNER: Best First Feature & Best Cinematography (Mayahuel Award), Best Opera Prima and Best Cinematography (Ibero-America Competition), Guadalajara Intl Film Festival 2017
NOMINATED: Crystal Bear and Best First Feature Award, Berlin Intl Film Festival 2017
TIMES & TICKETS FOR 'LAT17 TWO IRENES'
There are presently no session times scheduled for this film. Times for new release films are generally available from 12pm on the Tuesday prior to release. Please check back later.