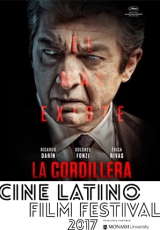 NOW SHOWING
LAT17 The Summit
Director: Santiago Mitre
Cast: Ricardo Darín, Christian Slater, Dolores Fonzi, Elena Anaya, Erica Rivas, Alfredo Castro, Paulina García, Leonardo Franco, Daniel Giménez Cacho & Gerardo Romano
Duration: 114 mins
Rating: 18+
Release Date: 16 November, 2017

Featuring an impressive international cast, including a cameo from Christian Slater, The Summit is a thorough and moral examination of modern politics, as well as a test of power's corrupting influence on families.
Hernan Blanco (Ricardo Darín) is the inexperienced President of Argentina who must navigate political strategy at an annual summit of Latin American presidents. Though he considers himself to be a man of the people, it becomes increasingly clear that his duties are most efficiently performed when there is as much distance between himself and the people as possible – a paradox of leadership.
Things go from stately to messy in accelerated speed when, on top of playing a high-stakes power game with Argentina's national interests, he must contend with his daughter, Marina (Dolores Fonzi), whose ex-husband is threatening to expose her involvement in a corruption scandal.
Blanco must retain his political authority in order to deal with these two crises – the personal and the political – without betraying his country, moral principles and his family.
Now Showing at
NOMINATED: Un Certain Regard Award, Cannes Film Festival 2017
"This is a filmmaker capable of taking on formidable, sensitive and complex themes with a disconcerting degree of self-restraint." -Cineuropa
TIMES & TICKETS FOR 'LAT17 THE SUMMIT'
There are presently no session times scheduled for this film. Times for new release films are generally available from 12pm on the Tuesday prior to release. Please check back later.