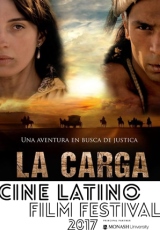 NOW SHOWING
LAT17 The Load
Director: Alan Jonsson
Cast: María Valverde, Horacio García Rojas, Gerardo Taracena, Eric Francés, Eusebio Lázaro & Tenoch Huerta
Duration: 94 mins
Rating: 18+
Release Date: 16 November, 2017

Set in the latter half of 16th century Mexico, The Load centres on a young Spanish noblewoman, Elisa (María Valverde), the only Spaniard who is willing to stand as a witness in defence of a rebellious Indigenous town, acting against even her own father. Eventually, she chooses to flee through new world forests in a search for freedom with the Tameme Indian chief, Painalli (Horacio García-Rojas).
This is the propulsive story of two unlikely heroes who forge an intimate bond as they are pursued through inhospitable jungles by a relentless band of soldiers. The title refers to the Tameme Indian task of hauling huge amounts of fish across vast distances; however, this time, Painalli is carrying Elisa, a powerful image of his symbolic load.
Now Showing at
WINNER: Carabela de Plata (Audience Award), Huelva Iberoamerican Film Festival 2015
NOMINATED: Silver Ariel Award (Best Actor in a Supporting Role, Best Actress a Supporting Role, Best Supporting Actress), Ariel Awards 2017
TIMES & TICKETS FOR 'LAT17 THE LOAD'
There are presently no session times scheduled for this film. Times for new release films are generally available from 12pm on the Tuesday prior to release. Please check back later.