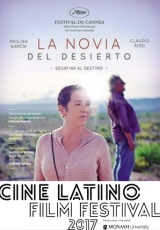 NOW SHOWING
LAT17 The Desert Bride
Director: Cecilia Atán, Valeria Pivato
Cast: Paulina García & Claudio Rissi
Duration: 78 mins
Rating: 18+
Release Date: 16 November, 2017

The astonishingly sensitive directional debut of Cecilia Atán and Valeria Pivato, The Desert Bride is an affecting drama about Teresa (Paulina García, Gloria), a quiet, middle-aged Chilean woman who is searching for fulfilment in the spectacular Argentinian hinterlands.
A long distance bus-ride turns into a hitchhike when a jovial stranger, El Gringo (Claudio Rissi), helpfully offers Teresa a lift. As he gradually teases out her backstory, we learn that her entire life has been spent in servitude of others, and outside of that she has little purpose or motive.
What follows is a breathtaking quest for meaning on a desert odyssey, with enough optimism to counteract any potential nihilism that audiences might expect from a film of this caliber. Instead, Teresa and El Gringo are a pleasingly dynamic duo; his easygoing charm is the perfect counterpoint to her mousy privacy.
Mesmeric, deliberate and eschewing convention that would have this film become a simple love story, The Desert Bride handles complex themes with astounding maturity.
Now Showing at
WINNER: Films in Progress Prize & Cine Plus in Progress Special Prize, Toulouse Cinelatino Film Festival 2017
NOMINATED: Caméra d'Or Award, Cannes Film Festival 2017
NOMINATED: Horizons Award, San Sebastian International Film Festival 2017
"Gently seductive." - The Hollywood Reporter
TIMES & TICKETS FOR 'LAT17 THE DESERT BRIDE'
There are presently no session times scheduled for this film. Times for new release films are generally available from 12pm on the Tuesday prior to release. Please check back later.