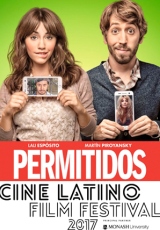 NOW SHOWING
LAT17 That's Not Cheating
Director: Ariel Winograd
Cast: Lali Espósito, Martín Piroyansky, Benjamín Vicuña
Duration: 106 mins
Rating: 18+
Release Date: 16 November, 2017

An Argentine comedy of manners, this new film from director Ariel Winogard (No Kids, To Fool a Thief) follows young couple Camila (Lali Espósito) and Mateo (Martín Piroyansky) who have been together for eight years, and who joke with their friends about the idea of a 'hall pass' for each to sleep with a famous person. Then, one day, the joke becomes a reality when Mateo unexpectedly meets his nominated celebrity.
Genuinely fun and funny, That's Not Cheating tests the limits of its premise – an idea that many of us have entertained with our respective partners – with a swarm of crazy, absurd situations that magnify its comedic charm.
This is a well-executed and agile film, showcasing solid technical performances from its leads that heighten the delirium and guarantee its international appeal.
Now Showing at
NOMINATED: Silver Condor Award (Best new Actress), Argentinean Film Critics Association Awards 2017
"audacious and enjoyable"- La Nacion
TIMES & TICKETS FOR 'LAT17 THAT'S NOT CHEATING'
There are presently no session times scheduled for this film. Times for new release films are generally available from 12pm on the Tuesday prior to release. Please check back later.