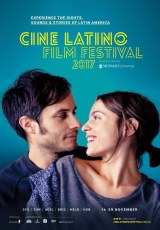 NOW SHOWING
LAT17 Tales of an Immoral Couple
Director: Manolo Caro
Cast: Sebastián Aguirre, Ximena Romo, Manuel García-Rulfo, Cecilia Suárez, Andrés Almeida, Natasha Dupeyrón & Paz Vega
Duration: 91 mins
Rating: 18+
Release Date: 16 November, 2017

Teenagers Martina (Ximena Romo) and Lucio (Sebastián Aguirre) first felt the sparks of romance as pupils at a strict Catholic school. Now, 25 years later, the two former flames (played by Cecilia Suárez and Manuel García-Rulfo as adults) run into each other again by coincidence.
Seeking to prove that neither has been waiting for the other to return, they swap elaborate stories about imaginary spouses. But they will be meeting up again at an exhibition that night, so each must seek out placeholder partners to uphold their concocted ruses. As expected, everything doesn't quite proceed as planned.
Tales of an Immoral Couple is one of those elaborate comedy-of-errors that ventures confidently into the absurd. Fueled by the thrum and hum of pop music, it is a refreshing take on classic rom-com fare.
Now Showing at
NOMINATED: Silver Ariel Award (Best Supporting Actress), Ariel Awards 2017
"The new standard for romantic comedies." - Vanguardia
TIMES & TICKETS FOR 'LAT17 TALES OF AN IMMORAL COUPLE'
There are presently no session times scheduled for this film. Times for new release films are generally available from 12pm on the Tuesday prior to release. Please check back later.