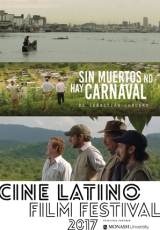 NOW SHOWING
LAT17 Such is Life in the Tropics
Director: Sebastián Cordero
Cast: Andrés Crespo, Antonella Valeriano, Daniel Adum Gilbert, Diego Cataño, Erando González, Maya Zapata & Victor Arauz
Duration: 100 mins
Rating: 18+
Release Date: 16 November, 2017

Ecuador's submission to the foreign-language Oscar race is a smartly scripted and well-crafted thriller about a young man attempting to evict 250 families squatting on his inherited land.
Violence is ever-present in the Ecuadorian city of Guayaquil, a product of the anger of those with no voice. Emilio (Andrés Crespo) was born with a silver spoon in his mouth and recently inherited a plot of land inhabited by a community of families. In order to force their eviction, he hires an agent to help – the same double-crosser who has been collecting money from the squatters in order to supposedly improve their living standards.
The squatters are not willing to let go of the land – which is all they possess in this world – without putting up a fight. Their leader is willing to negotiate but talks are guaranteed to be tense on either side. Meanwhile, Emilio is caught up in his own dramas over a stray bullet that accidentally killed a person. What results is a disconcerting depiction of what can result from fiscal inequality.
Now Showing at
NOMINATED: Silver Ariel (Best Latin-American Film), Ariel Awards 2017
OFFICIAL SELECTION: Miami Intl Film Festival 2017
NOMINATED: Platino Award (Best editing), Platino Awards for Iberoamerican Cinema 2017
"Nuanced and lacerating" – THR
TIMES & TICKETS FOR 'LAT17 SUCH IS LIFE IN THE TROPICS'
There are presently no session times scheduled for this film. Times for new release films are generally available from 12pm on the Tuesday prior to release. Please check back later.