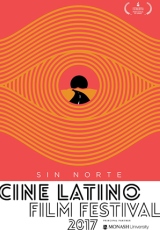 NOW SHOWING
LAT17 Lost North
Director: Fernando Lavanderos Montero, Gonzalo Verdugo
Cast: Koke Santa Ana & Dindi Jane
Duration: 100 mins
Rating: 18+
Release Date: 16 November, 2017

A subversive take on classic road movies that equally functions as an off-beat romantic drama, Lost North may appear to be about a man who has lost his way but it is more about those who help him find it.
When Esteban's (Koke Santa Ana) girlfriend, Isabel (Dindi Jane), decides to run away, he immediately sets off to track her down. His only clue as to her whereabouts is a series of her travel videos – shot by Isabel herself – which he digs up from an iPad.
What follows is a cinematic conversation between scenes of Esteban and excerpts from Isabel's recordings, which are as spontaneous as they are joyful. Yet, as Esteban visits the same locations in the footage, all traces of joy are extinguished.
Esteban's journey takes him along an endless open road in Chile, featuring many of Latin America's most picturesque examples of natural scenery, including the salt flats of the Atacama Desert. A 900-mile pilgrimage spanning from Santiago to the Bolivian border, Lost North will have audiences lost in its delightful idiosyncrasies.
Now Showing at
WINNER: Audience Award (Best Film), Critics Award (Best Film), Viña del Mar Film Festival 2015
"A bouncy but captivating ride." – THR
"Extremely watchable…[with] some of Latin America's most striking scenery." - THR
TIMES & TICKETS FOR 'LAT17 LOST NORTH'
There are presently no session times scheduled for this film. Times for new release films are generally available from 12pm on the Tuesday prior to release. Please check back later.