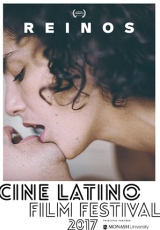 NOW SHOWING
LAT17 Kingdoms
Director: Pelayo Lira
Cast: Diego Boggioni, Daniela Castillo Torro & Astrid Roldán
Duration: 79 mins
Rating: 18+
Release Date: 16 November, 2017

A gritty romance that highlights the complexities of love on a Chilean university campus, Kingdoms excels at subtly conveying biting social commentary about culture, politics and society.
Alejandro (Diego Boggioni) is undertaking his first year of university, and his girlfriend, Sofia (Daniela Castillo), is finishing her dissertation. They are an ordinary college couple, brought to a level of absorbing realism by the naturalistic performances of the two leads.
Told with raw vulnerability and emotional awareness, this film acts as an exposé on relationships between young couples on campus. Hard-hitting questions of how long their love could really last – and whether sex is the only true motivator – are brought to the fore. Dark possibilities also begin to emerge at the threat of their passions moving into something new or fizzling away altogether. Their connection is depicted as something complex and fraught, in a film that doesn't shy away from explicit erotic scenes.
Beyond the love story, Kingdoms acts as a nuanced social observation of a generation of drifters, without plan or prospect, facing isolation from the previous generation.
Now Showing at
"A debut feature with extraordinary emotional potency." -Javier Porta Fouz, Artistic Director, BAFICI
OFFICIAL SELECTION: Karlovy Vary Intl Film Festival 2017
OFFICIAL SELCTION: BAFICI – Buenos Aires Film Festival 2017
TIMES & TICKETS FOR 'LAT17 KINGDOMS'
There are presently no session times scheduled for this film. Times for new release films are generally available from 12pm on the Tuesday prior to release. Please check back later.