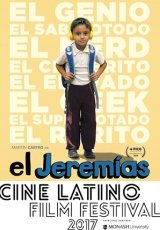 NOW SHOWING
LAT17 Jeremy
Director: Anwar Safa
Cast: Daniel Giménez Cacho, Martín Castro, Karem Momo Ruiz, Paulo Galindo, Isela Vega & Marcela Sotomayor
Duration: 95 mins
Rating: 15+
Release Date: 16 November, 2017

First-time feature filmmaker Anwar Safa creates a film with a big heart and an utterly adorable, precocious eight year-old lead, Martín Castro, who shines in the titular role of Jeremy.
Against the sun-drenched warmth of Sonora in Mexico, we get to meet Jeremy, who is a quirky and strange kid defined by his boundless curiosity. Though born to a family with not a lot of cash at their disposal, it becomes apparent that Jeremy is an extremely gifted child, which opens doors to him that were previously well out of reach.
Should he become a rockstar, chess champion or mathematician? Amid the jokes, colour and Wes Anderson-style framing, Jeremy's newfound genius starts to weigh on him, especially the expectation of his family who see opportunities to use Jeremy's success for profit.
Fulls of laughs and boundlessly endearing, this is a film for young and old that demonstrates the importance of being true to yourself no matter what. You can't help but leave the cinema with a smile on your face.
Now Showing at
WINNER: Silver Ariel (Best New Actor), Ariel Awards, Mexico 2016
WINNER: Audience Award (Stories from Abroad), Austin Film Festival 2015
WINNER: FEISAL Award, Guadalajara International Film Festival 2015
"The first feature film directed by Anwar Safa, and he is a definite talent to watch." -The Austin Chronicle
TIMES & TICKETS FOR 'LAT17 JEREMY'
There are presently no session times scheduled for this film. Times for new release films are generally available from 12pm on the Tuesday prior to release. Please check back later.