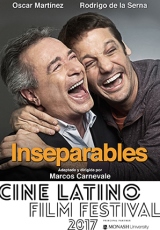 NOW SHOWING
LAT17 Inseparable
Director: Marcos Carnevale
Cast: Oscar Martínez, Rodrigo de la Serna, Carla Peterson & Alejandra Flechner
Duration: 109 mins
Rating: 18+
Release Date: 16 November, 2017

Felipe (Oscar Martínez) is a wealthy business man who requires a therapeutic assistant to take care of his everyday needs due to being wheelchair-bound. Though presented with an array of choices for the job position, he decides to give it to his gardener, Tito (Rodrigo de la Serna), who is one of the few people who doesn't treat him with pity.
Rife with hilarious gags that arise from the 'opposites attract' scenario of Tito's inexperience as a carer and the class differences between the two men, Inseparable is about overcoming the odds and forming interpersonal connections regardless of circumstance.
This is a film that especially comes to life through the talents and rapport of its two lead actors, who manage to elicit perfect empathy. The result is equal measures of poignancy and humour that will stay with you long after seeing it. A distinctly Argentinian remake of the French hit The Intouchables (Olivier Nakache and Éric Toledano, 2011)
Now Showing at
NOMINATED: Best Sound (Sur Awards), The Argentine Academy of Cinematography Arts and Sciences Awards 2016
"An amazing duo"- El Pais
TIMES & TICKETS FOR 'LAT17 INSEPARABLE'
There are presently no session times scheduled for this film. Times for new release films are generally available from 12pm on the Tuesday prior to release. Please check back later.