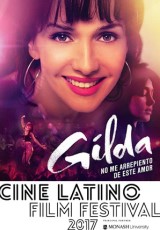 NOW SHOWING
LAT17 I'm Gilda
Director: Lorena Muñoz
Cast: Natalia Oreiro, Lautaro Delgado, Javier Drolas, Roly Serrano, Daniel Melingo & Ángela Torres
Duration: 118 mins
Rating: 18+
Release Date: 16 November, 2017

I'm Gilda tells the story of Gilda – the Argentinian singer of the '90s who, at 36 years old, died tragically in a car accident during the peak of her career.
Born Myriam Alejandra Bianchi, Gilda rose to success after she previously worked as a teacher and a gardener. From the age of 30, it took her a mere six years to achieve what many musicians never achieve in their whole lives, earning her cultural status as popular as a saint.
Played to perfection by the earnest Natalia Oreiro (whose own vocals are used to replicate Gilda's in this film), Gilda is painted as a struggling heroine who defied the odds in order to achieve her dreams, even in the face of personal hardship.
A tragic retelling of an enigmatic talent cut down in her prime.
Now Showing at
WINNER: Best Actress, Best Costume Design, Best Original Score, Best Sound, Best make-up, Academy of Motion Picture Arts and Sciences of Argentina 2016
WINNER: Best Director, Best Actress, Best Editing, Best Sound, Best Costume Design (Silver Condor Award), Argentinian Film Critics Association Awards 2017
WINNER: Best Actress (Audience Award), The Platino Awards for Iberoamerican Cinema 2017
TIMES & TICKETS FOR 'LAT17 I'M GILDA'
There are presently no session times scheduled for this film. Times for new release films are generally available from 12pm on the Tuesday prior to release. Please check back later.